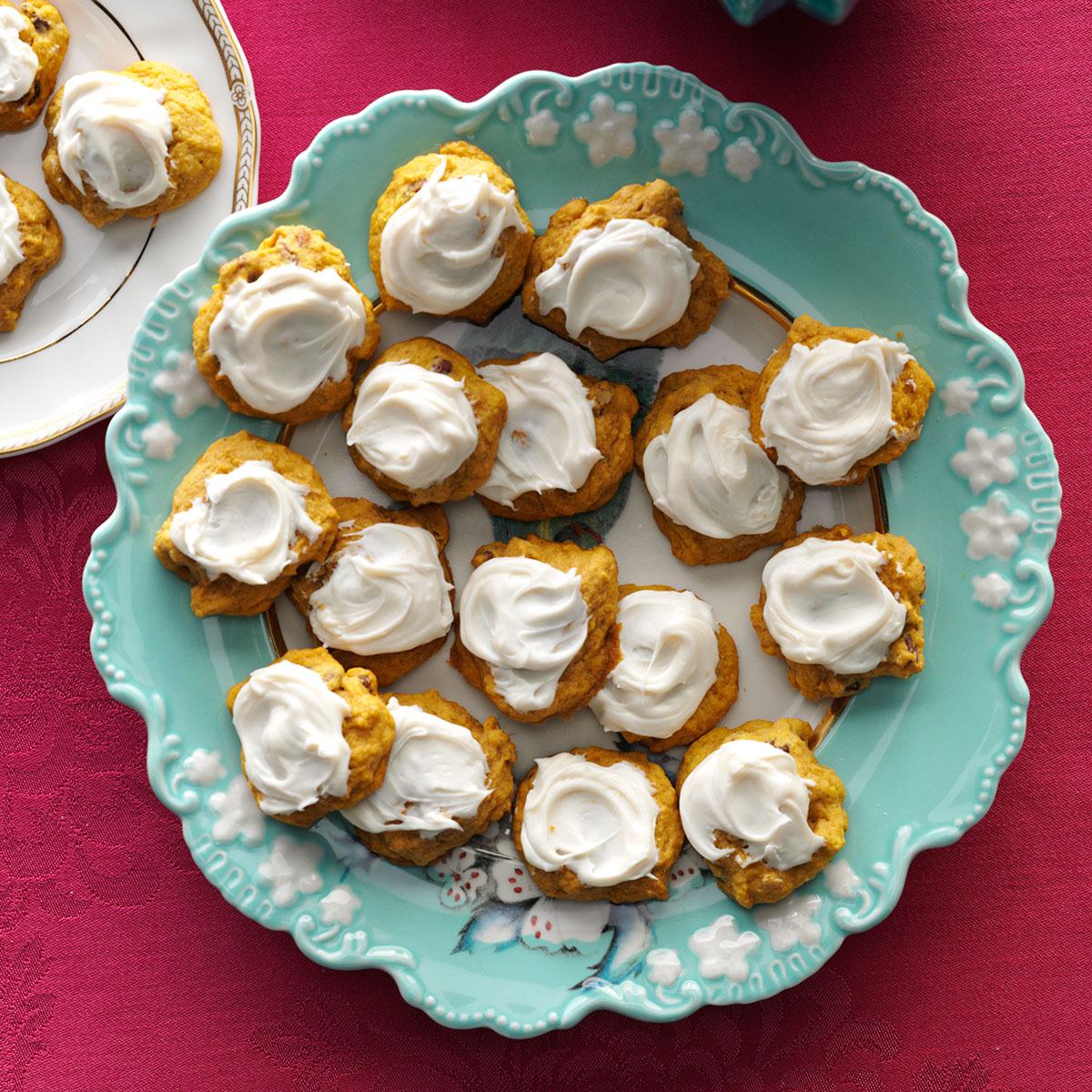 Pumpkin pie, pumpkin bread, pumpkin cookies, your typical PSL from your favorite coffee shop....how could we resist! This tasty treat is sure to cheer you up on that rainy fall day!
Pumpkin Cookies with Penuche Frosting
TOTAL TIME: Prep: 25 min. Bake: 10 min./batch + cooling YIELD: 7 dozen.
Ingredients
1 cup butter, softened
1/2 cup sugar
1/2 cup packed brown sugar
1 large egg
1 cup canned pumpkin
2 teaspoons vanilla extract
2 cups all-purpose flour
1 teaspoon baking powder
1 teaspoon baking soda
1 teaspoon ground cinnamon
1/2 teaspoon salt
3/4 cup chopped pecans
FROSTING:
1/4 cup packed brown sugar
3 tablespoons butter
1/4 cup 2% milk
2-1/2 to 3 cups confectioners' sugar
Directions
1. Preheat oven to 350°. In a large bowl, cream butter and sugars until light and fluffy. Beat in egg, pumpkin and vanilla. In another bowl, whisk flour, baking powder, baking soda, cinnamon and salt; gradually beat into creamed mixture. Stir in pecans.
2. Drop dough by rounded teaspoonfuls 2 in. apart onto ungreased baking sheets. Bake 9-11 minutes or until edges are light brown. Remove from pans to wire racks to cool completely.
3. For frosting, in a small saucepan, bring brown sugar and butter to a boil. Cook and stir over medium heat 1 minute. Remove from heat; cool 10 minutes. Transfer to a large bowl; beat in milk. Gradually beat in enough confectioners' sugar to achieve spreading consistency. Frost cookies.
© 2019 RDA Enthusiast Brands, LLC
For more wonderful treats, check out this recipe from Taste of Home!