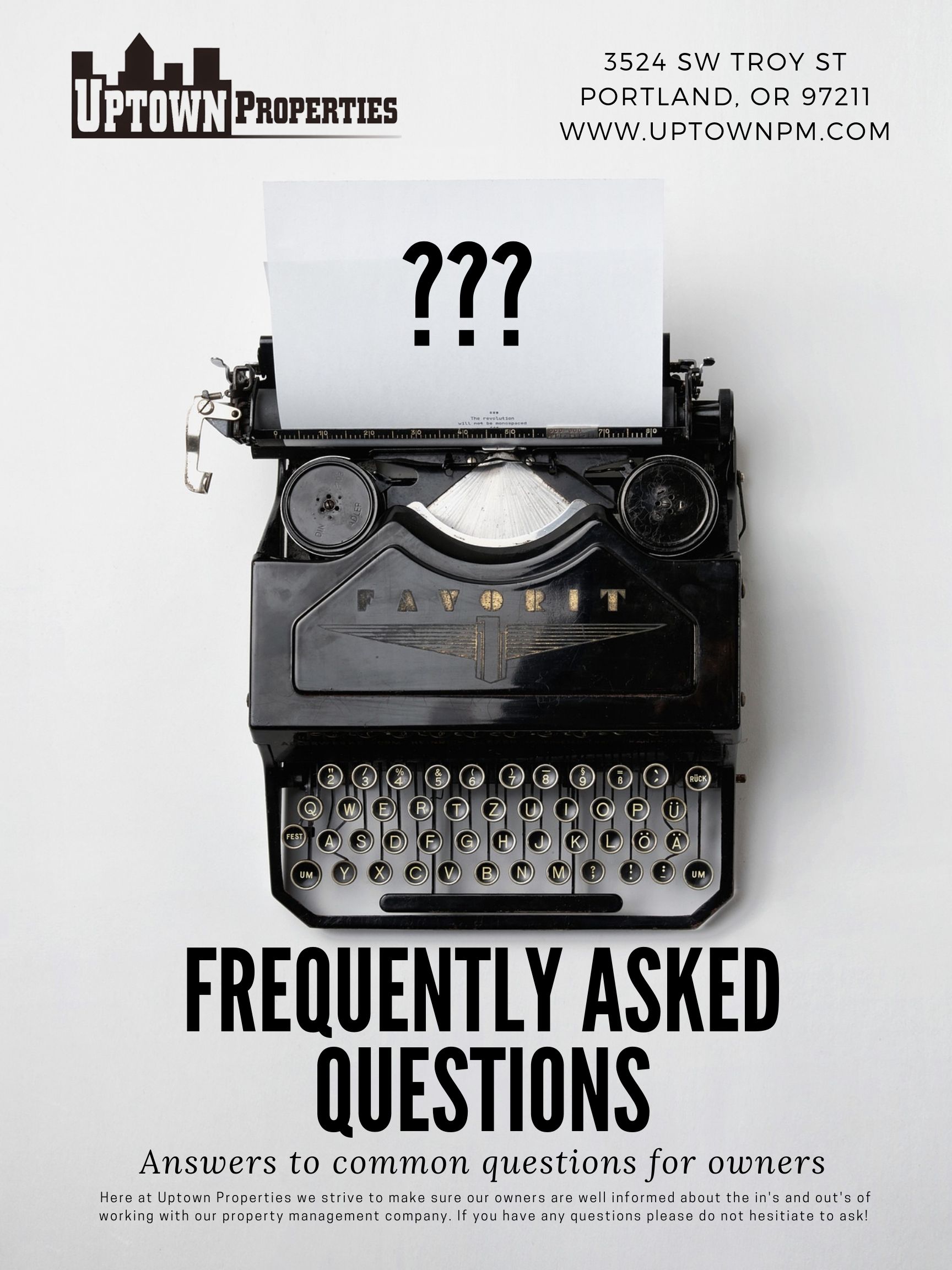 CLEANING –Tenants are entitled to a clean home upon taking occupancy. Oregon law states that when the carpets are professionally cleaned upon a move-in the tenant's security deposit can be charged for cleaning upon the move-out. We ask that our owners please have the home and carpets professionally cleaned when vacated and hiring us. We can arrange to have the work done, as long as we have funds in the account to pay the bills as they arrive.
EVICTIONS – One of Owner's biggest fears can be facing a contentious eviction process. While there are a few "nightmare" cases, the majority of the time a For Cause termination is simply due to a change in the Tenants' fortunes, and they can no longer afford the rent. Through our Eviction Protection program, we contract with specialized attorneys to handle the process of filing the proper notice, the court appearance and the final settlement.
FEES – In 2010 Oregon law changed so that owners can no longer charge non-refundable fees to tenants, with very specific and limited exception which are for: smoke detector tampering, application to rent, pet waste and trash clean-up, parking infractions, and return checks and pet infractions. Additionally, the maximum amount for these fees is set by law. Non-refundable cleaning fees are not allowed. One exception that recently passed through our lobbying efforts in 2014 is that condominium owners with HOA's that require "move-in/move-out" fees may now be passed on to the tenants.
KEYS – We will need two keys for our office and one key for each tenant. Please leave the keys and any garage door openers, fobs, mail keys, etc. in a kitchen drawer upon vacating. If extra keys can't be made before vacating, we will have keys made on your behalf and charge the owner's account. If there are any deadbolts requiring a key on the interior side of the door, we would like to have these replaced with the single-key type of deadbolt so tenants can escape in a fire without having to locate the keys in an emergency exit. Having functioning locks and keys for each door is an important aspect of making sure the home is ready for tenants. It is best to have all locks work with the same key when possible.
HOW OWNERS GET PAID – We require, initially, $500 to deposit into the Client Trust Account. If owners request paid advertising (i.e. Oregonian, or high-end search engine services), we will pay those charges when received in our office out of the funds in the account. Paid advertising is rarely necessary, and may only be required for one weekend, or several, depending on how fast the home rents. Once an applicant is approved to rent the home, we require a "Deposit to Hold" security deposit from the applicant within 24 hours to hold the home until they move in. The security deposit is held in our Security Deposit Trust Account until the tenant vacates.
On-Or-Before 20th of each month, we will direct deposit the balance in the Owner's account with The Garcia Group after retaining a minimum $500 balance. Also, we will provide access to the Owner Portal, which will give access to the Monthly Owner Statements by sending out a secured email link.
Please remember, expenses are paid out of the Owner's account when incurred. We do not charge against a tenant's security deposit until 30 days after the tenant has vacated if the charge is a non-reimbursed tenant responsibility.
LANDSCAPING -With regards to the care of landscaping, we recommend using a yard maintenance service that is paid for by the homeowner. Even though the tenant agrees in the rental agreement to mow, weed, and water the yard, our experience has been the courts routinely throw out claims against tenants for yard care. Neighbors appreciate the look of a clean yard. Also, hiring a professional yard care maintenance service limits the risk of liability claims. Offering a "break in rent" to tenants to do the yard can have negative consequences, including Workman's Comp violations if there is an accident. Thus, we suggest not to have tenants attempting to maintain the nice shrubbery and trees, (except to water).
SECURITY SYSTEMS – A growing number of security companies are not allowing tenants to hold contracts for security systems, but instead, the contract must be in the homeowner's name. Many owners have chosen to disconnect the security system completely and not offer its use with the rental of the home. NOTE: Any adjustments made retroactively should be in accordance with the local fire district codes. We do not have the expertise or knowledge to give advice on particular ordinances and regulations.
SMOKE ALARMS CARBON MONOXIDE (C0) ALARMS - All smoke alarms must have a hush feature, and if battery operated, the battery must be a ten year lithium ion battery. CO detectors are required in residences with fire places, gas heat or attached garages. Both types of detectors must be on all levels of a house, including unfinished basements. If they are not currently in place, we will need to install them before we move the first tenant in to protect all parties, including the homeowner. Please follow this link for instructions on where to put smoke and CO detectors:
https://www.tvfr.com/DocumentCenter/View/1491/1170626_TVFR_Smoke-Alarm-Law_2016-v2?bidId=
LEAVING PERSONAL ITEMS – It is best if all of personal items are removed upon vacating, as we cannot be responsible for these. If the tenants leave items behind it becomes impossible to tell which items belong to the owner of the home and which belong to the tenant, or if there are damages, when and how they occurred.
If you must leave any items behind please provide us with a list of items you left. Please also take photos of the items left behind so we are aware of the condition they are in before you begin renting out your home.
UTILITIES Electricity, natural gas, garbage, water and sewer stay in the Owner's name and ON until the home is rented and cancel cable and telephone service upon vacating. Please provide us with the names and telephone numbers of all the utility companies serving the home. . If the home is located in the city of Portland, there is an ordinance stating that the garbage should remain under the owner's or the Property managers name. It can be paid by the owner or billed back to tenants.
If you have additional questions please do not hesitate to ask!